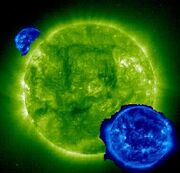 The Oularis System was one of the Two Cardinal Stars that was seperated from the Solaris-Polaris plane. it is tertiary star, which means it is actualy three stars, Oularis, Antares and Cenates(Antares and Centares being blue stars orbiting Oularis) giving it a greenish apearence. it has eight planets.
Hot, arid, volcanic, rich in resources.
Dry, arid, potentialy fertile.
Warm, fertile, mountanous, home to Sartans. orbits around Jensi.
Cool, forested, fertile, home to Jensans. orbits around Sarta.
Cool, extremely mountanous, fertile, echoey, home to Kranians
Nemea: dry, rocky, mining colonies.